What do you think is the most difficult thing about running a hair business?
Huge cost of money to make inventory? Consistent quality product? Good communication with your vendor?
Hair business is actually one of the lowest cost business, since drop shipping is available with many vendors now, you can do a drop ship order to your client when you have order, many people may worry about customer information won't be safe by dropshipping, well then you have to find a reliable hair vendor, we Elesis Virgin Hair promise client information private, here is an example of drop ship order we do.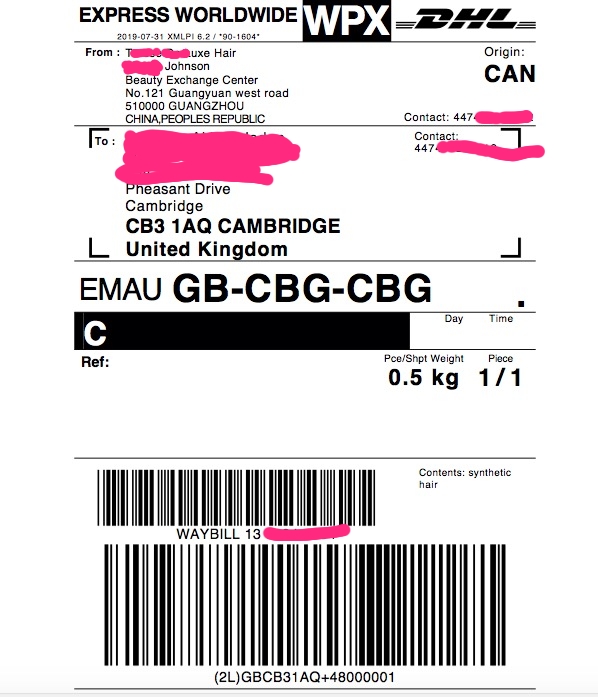 Your business name and contact number is on the label, the only one information from us is just the address where the package come from since this is requested by courier company.
No matter what business you are running, vendor quality hair product is always one of the most critical factors to keep your business grow up. In this article we want to discuss another factor that is also important to business—-customers

In my point of view, customer is as important as vendor in running hair business because even you have super good vendor you can't keep business grows if you don't have customer to support your business. Customer development is important for business we must have a plan to find potential target customers.
what's mine target customer?
Your target customer depends on what product you're selling, what quality you're selling? What price you want to sell? For hair business most people do advertise on social media like Youtube/Instagram/ Facebook/Twitter/Snapchat etc. When you show off your product on your Chanel there will be potential client come to you for business. In addition to passively waiting for customers to come to you, you can also actively look for potential customers. When find vendors you need to do some research on the product quality, so is customer. You need to find the right customer who are more likely to pay for your service or product. You can't just talking to random people and try hard to show off your product. First you should 100% sure the people you are talking to are in need of your product. Second only develop potential customer who can afford your price and product. There are different quality hair in the market. If you are working hard on introduce your super high quality to people who use lower quality you are not likely to success because it's un-affordable for them. Just like when I quotate our highest grade virgin hair many client think that's too high for them and in that case I will recommend our remy hair grade with much lower price, but they said they want the best quality. Did you see that? It's common that all people said they want the best quality but they are not really want to pay a good price for the high quality. For us, we have to give up those people who want the higher quality but not want to pay good price. We fell pity but have no way because they are not our target customer. So when you are developing customer you need to make sure you go to the target customer who need the product and who can afford the price.
Not only client Choose you, you should also choose client
Although we care a lot about our customers but that does no means we have to accept all client business. There are some client are no good to do business.
People don't know take care hair. If people don't know how to take care hair they will ruin the hair and blame you not send her quality hair. You will be too stress to do business with such people.

Too picky people on quality, the can not allow any small issue like a few strand hair come out which is normal for human hair.

People deliberately find fault with your products in order to get a discount

. we experienced such case before, every time she order she'll said last time hair no good and ask for a discount in new order. After a few times we feel so tired to deal with her and refuse to sell more hair to her.

Dishonest customers can't do do business.
About sample
Many people may have suffer from too many bad quality hair and they are scared to waste more money on sample, some may ask for free sample.
Should you offer free sample to client?
well that depends on how well you know about the customer business. If you are 100% sure someone are potential buyer you can send a bundle to test. Be aware there is some liar try to cheated you out of hair. But acturally If the client is potential client who need a lot hair I don't think she will mind paying for a sample. We Elesis Virgin Hair do not provide random people sample for free. If you are seriously about trying our hair you can tell us something about your business and we decide if we can give you a free sample.