| | |
| --- | --- |
| Hair Extension Type: | Tape in hair extensions |
| Hair Texture: | Yaki Straight |
| Material Grade: | Virgin Hair |
| Density: | Regular A2 |
| Hair Color: | Natural Black #1B |
| Quantity: | 20pcs/pack |
| Net Weight: | 50g, 2.5g/Strand |
| Shippment Time: | 1~2days |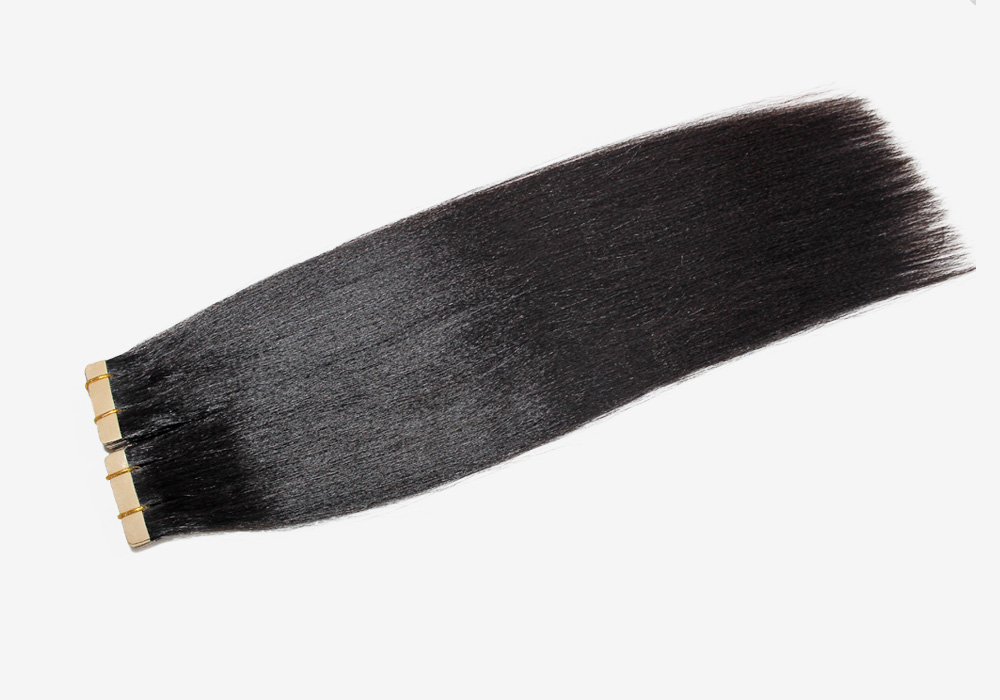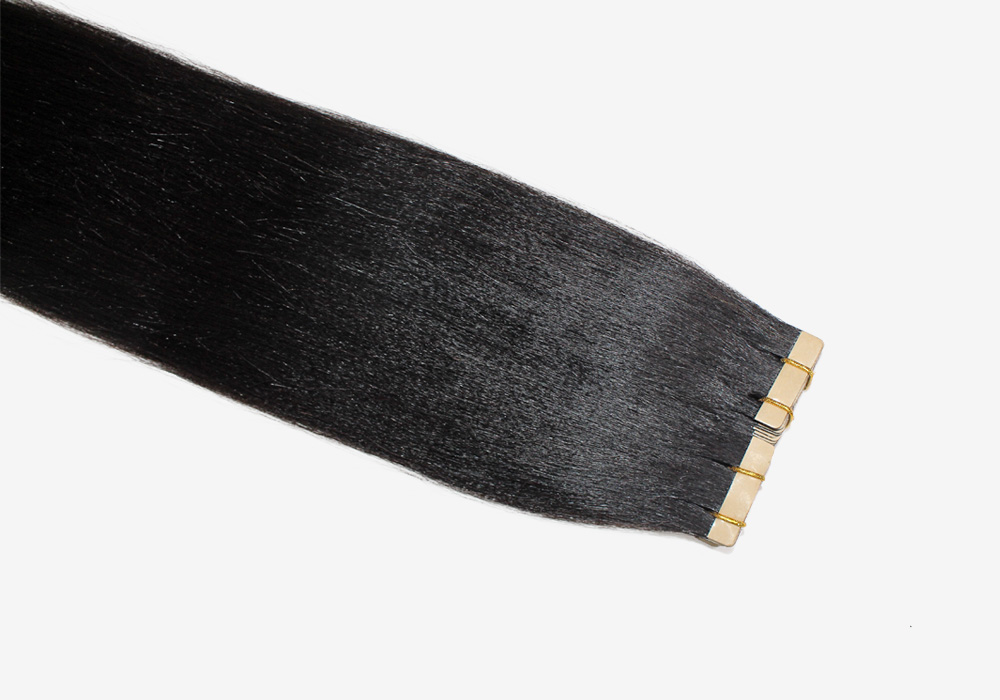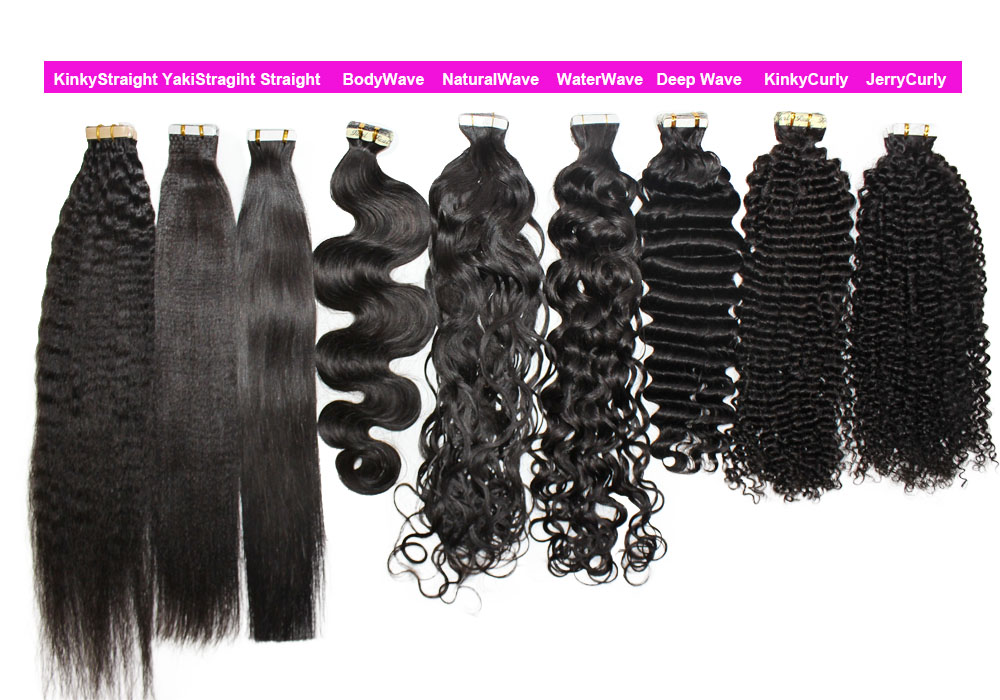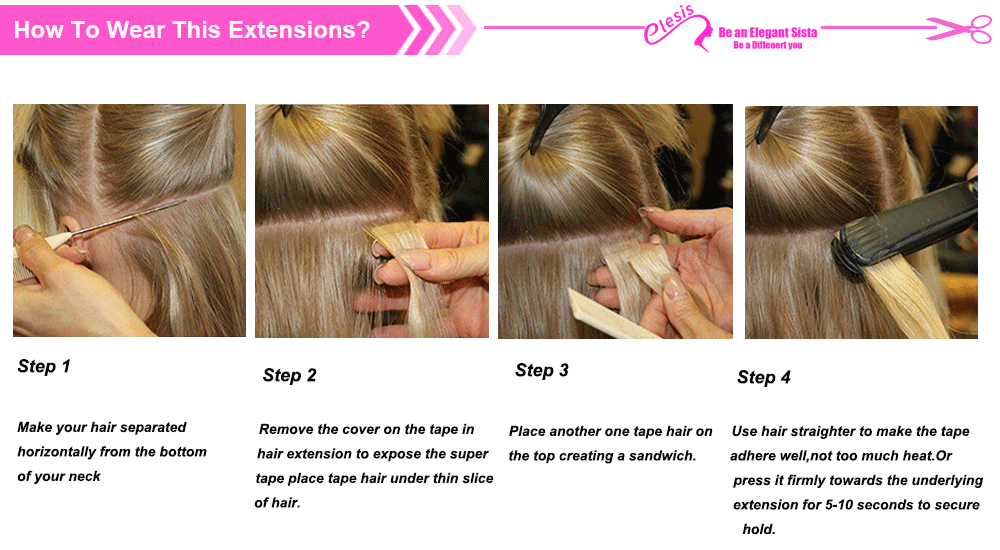 1.Never use any products containing oil, alcohol or ethanol as this can damage the hair extensions and also wear down on the adhesive. Try your best to use sulfate free shampoo and conditioner as well as 100% natural hair products to keep hair extensions in good condition.
2.When using hot tools be sure to use a heat protestant spray! The more you use heat on your hair, the shorter the life-span of the hair extensions.
3.Do not use a flat iron directly on the tape tabs.
4.When using conditioner, condition from mid-shaft to ends only. Do not apply conditioner to your scalp when wearing tape in hair extensions.
5.When using serums or oils avoid contact with the tape, use on mid length to ends only. We use natural products such as coconut oil on the ends of the extensions to keep the hair healthy and shiny over time.

Step 1: Apply olive oil to your hair, where the tape residue is stuck. Coat your hair with the oil to loosen the sticky adhesive.
Step 2: the oil on your hair, by heating it with your hairdryer. Hold the hairdryer 12 inches away from your hair for 30 seconds to heat the oil. Allow the oil to remain on your hair for a few minutes
Step 3: Comb through your hair with a fine-toothed comb to remove the tape residue. Wipe the remaining olive oil off your hair with a washcloth, so you can see how much tape residue is left.
Repeat Steps 2 and 3 until the adhesive is completely removed.
Step 4: Shampoo your hair to remove the olive oil and the last of the tape residue.
The Other Method:
(1)Use the brush to separate the tapes
(2)Then press the remover liquid medision remover into tapes.
(3)Use fingers to knead the tapes.Then put the two pieces tapes apart,And then tear off both sections. Then you can wash your hair.
(4)In addition, according to the quality of tape and the degree of adhesion, different medicines are needed. Some of them can be pulled down directly, while others need to pour the potion several times.
BENEFITS OF ELESIS SEAMLESS EXTENSIONS TAPE IN
Invisible and secure
Elesis tape in extension selected invisible skin weft tape made in China.It can be instantly applied to parted areas of the head,and attach to your hair seamless and safe.No need for secrets.
Added length and thickness
With ELESIS tape in hair, you can add several inches of length to your hair to totally change your look. On the other hand, if volume is a problem, you can go with shorter extensions that add thickness and fullness to your hair instead.
Long-term wear
ELESIS Tape in hair extensions is more suitable for long time wear because of a better breath ability. It can be worn to sleep, but you may need some time to adapt. Save the trouble of putting in and taking off every day.
Experiment with color without damage
Change your hair style/color without hurting your natural hair.Use ELESIS tape hair extension human hair to experiment with highlights or lowlights,or even try out an Ombre look. Always take ONE piece for testing before dying all the hair.